Helping you make smart business decisions    …… on ALL matters of concerning FINANCE
Turning 'should know' skills into 'NOW KNOW' skills
 Ian Linnegan

The 'financial jungle' is hostile territory for business owners who are not properly prepared.
Every business decision you make has some finance impact, and it's vital to have some fundamental skills in matters of finance to a) prevent 'dumb' decisions and b) have the confidence to be 100% committed to decisions that can significantly improve the bottom line. It's all in the terminology and the numbers!
Busy business owners don't want number overload – what they need is the KPI's (key performance indicators) shown in a clear and easy to understand format i.e. the key facts in PLAIN ENGLISH. It should not be so difficult.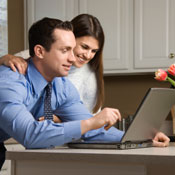 Hastily made decisions can easily backfire, especially if some of the financial consequences are not fully understood or even factored in.

These types of business decisions can include:-
The purchase of new equipment outside budget guidelines (if there is one) without considering future cash flows.
Failing to notice a deteriorating trend on gross and net margins as the economy slows down.
Not fully factoring in the 'contribution element' that is currentrly being made to help cover fixed costs of any current products/services that you may be considering to discontinue.
Delivering the skills and knowledge to help you make better business decisions, on topics that include those mentioned above, is the service I offer at BFC.
Overcoming the fear factor
Personal research and many one-to-one discussions with clients has revealed that four of the most common barriers to achieving finance competence are:
failure to understand financial terms properly
building up sufficient 'numeric skills' to analyse the results properly and then go on to correctly assess the potential consequences – either favourable or adverse!
some accountants swamp clients with to many facts
SAGE type products often need a major 'trim down' process to be able to focus on the KPI's (key performance indicators) of the business.
All above factors inhibit the owners to make effective decisions – the main reason to improve profitability.
The use of a comprehensive workbook and spreadsheets (if requested) are an integral part of the sessions. These help users to overcome their hurdles, and it 'free's up' more time to be devoted to exploring 'what if' situations – where new opportunities can be better explored. It's the enjoyable and exciting part of the programme!
Armed with new finance skills:
Business opportunities are seized more positively and fully exploited.
Owners are able to play a confident role in helping move the business forward – simply because they possess a better understanding of the financial impact and consequences of any decisions that they need to make.
You will be able to:

ask searching questions of the 'financial experts' and be better placed to
identify less drastic alternatives or
if the impact on business continuity demands, explain more succinctly to staff or clients the reasoning behind any difficult decisions that need to be made.
 How is the coaching delivered?
A series of 90 / 120 minute sessions is normally available – delivered on a weekly/fortnightly basis. Some follow-up is usually expected after each session to enable learners to consolidate skills acquired, and start to build up the confidence to take on tougher decisions.  Some preparation before each session can also be arranged to make best use of the contact time. Some sessions can be conducted through telephone or Skype.
Skills are developed on a step by step basis, and you will build competence and confidence at each level before moving on to the next step; spreadsheets do the hard 'number crunching' bits, leaving you free to 'see' the bigger picture –and this provides more time to discuss in more detail the specific impact the topic may have to daily operations at the business.


Typical financial training programmes are often too generic and not sufficiently tailored to meet either individual, or industry needs.
In addition, they fail to provide that little bit of 'extra' personal guidance which may be needed to overcome any smaller hurdles, which may then go on to inhibit further learning.
Check out the Taster Day programme
Competitively priced. Designed to get you started and learn about the special teaching methods of the coach.
Course Features The course overcomes the 'hidden barriers' normally associated with other types of programmes.
Extensive use of gapped handouts to build concepts on a step by step basis.
Applying Excel spreadsheets to reinforce the learning process and remove many of the numeracy barriers (some sections cab be completed by the coach, if this is requested).
Clients use their own PC equipment and the work they complete is then easily assessable.
Clients are able to skip sections, select appropriate case studies to their business sector and are encouraged to use own data, wherever possible.
Incorporating actual business data helps owners better assess their own business 'health'.
Ability to apply Excel graphics to convert sales/production/profit data into more easily to understand visuals.
Regular follow-ups can be conducted (e.g. on budgeting issues) or through Skype/telephone support.
Check out the testimonials page
Costs
The pricing rates starts from £30 per hour. Initial consultation free to asses needs. Please contact the coach for further details.
Part 1 Finance Understanding – 5 sessions
Five sessions are usually sufficient to cover basic financial skill concepts (i.e. definitions, P&L, balances sheets, cash flow, ratios, options for raising additional capital). Full one day programmes are also available.
At the end of each session, progress is reviewed and some additional activity is usually suggested to reinforce/consolidate any work covered during the session. This helps to prepare for the next session. A 5 minute review is undertaken at the start of every session, usually in the form of a quick questions and answers exercise.
Part 2 Management Accounting – 5 sessions
A further five sessions are available following the first programme. This covers management accounting concepts. This includes: costing concepts, special pricing and budgeting process. It is possible to select a specific topic of immediate interest first e.g. the budgeting process and then schedule the others on an as needs basis. We do not usually offer any management accounting topics until the basic financials have been covered.  Any prior learning needs to be discussed and factored into your programme design.
If an issue is urgent – e.g. preparing a business plan to submit to a bank or business angel or needing to make an urgent decision on a major investment on some capital purchase, then these issues are top priority.
Location
Sessions can be conducted in:
Ilkley:  in-house or other venues within easy travelling distance from Ilkley i.e. Harrogate, Bradford or Leeds. Please call to discuss details.
Clients wishing to combine a short stay in the Dales can undergo 2/3 sessions per day and complete a programme over a Friday/Saturday period.
Ipswich: in-house or other venues within easy travelling distance from Ipswich will be considered. Please call to discuss details.
It may be possible, if the location is suitable, to deliver the sessions at other venues and to clients who do not have English as their first language. The coach has extensive experience of training overseas clients (both at London venus and in overseas locations, including Zambia and Bermuda).
Regular support for local businesses on specific management accounting issues can also be discussed.
Interested?  Call me for further discussions.   Tel 07973 330324

Or
Call 07973 330324 or email or Skype: ianlinnegan
Non UK clients can undertake the coaching programme using Skype and email. Contact me by Skype for more information.